A lot of people, myself included have been guilty of taking things for granted at times. No matter what you do, who you meet or what you get, there is always something more!
It is important to strive – but sometimes you need to stop and appreciate what you have already done or have; otherwise you may end up feeling like the dog running in circles – never catching its tail.
No matter what your life situation is right now – what you want but don't have, or everyone is against you, or that you never have any luck – it is time to stop, re-evaluate and decide….that's right, DECIDE what is important to you, right now.
I am currently in Thailand for 3 months and if there is one thing I like most about traveling to non-western countries, it is the ability to feel a deep sense of gratitude for being born where I was and being able to live the life I have so far.
Let me tell you that there are a lot of people out there in this world who go without the most basic things that we take for granted and probably don't give a second thought too. If you ever want to feel more grateful for what you have or for those around you, an easy way is to go out and experience how other people live in some  countries – you will soon see that your average life isn't so average.
This article isn't about donating money or fixing the worlds problems by words. I just want to bring awareness to what you already have in your life.
Things like:
Sewage treatment
Storm drains
Clean drinking water
Big grocery stores with fresh food
Clean clothes
Air conditioning or fans
Well-constructed homes
Safe electricity with proper grounding/earth
A bed
A car
Disposable income
Showers
Hot Showers
Do you have clean drinking water, a place to sleep, a place to sleep in a well built house? Do you have heating, clean clothes, a grocery store or supermarket nearby to buy refrigerated fresh food? Did you ever feel grateful that you had those things?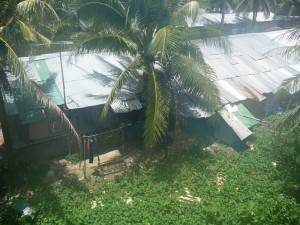 Above is a common Thai house. It's not one house by the way but several houses joined together. Maybe this is your idea of paradise and I'm not here to judge but for most of us – would you like to live in this building with no floors, metal sheets laid for a roof in a place where the "cool" temperature at night time is 25 degrees celsius or 77 Fahrenheit? That rental home isn't looking so bad now is it?
I could keep going with the list above, but I am sure you get the point by now. Did you know the average Thai construction worker makes $137 US a month? $137 US dollars per month! That's about $147 AUD or 88 pounds. PER MONTH – and they work from the early morning until night. Don't forget at least 6 days a week. What about holiday pay or sick pay? Definitely not.
The truth is, if you are from a country of opportunity like me, you are already extremely lucky and you have the resources and opportunities to succeed. Did you know that most of the top 10 billionaires today were born to poor families and inherited absolutely no wealth? Think Richard Branson or Oprah Winfrey, who have become some of the most inspiring leaders of our day.
As Warren Buffet would put it, you have won the ovarian lottery, just by being born in places like the UK, USA, CA, Australia and other western countries you have the opportunities to build yourself up in your lifetime from literally zero to billions.  Yes, there are opportunities everywhere, and they are available for everyone.
These countries provide free education, medical help, money for the unemployed to name a few of the big ones. You have access to all of these right now, just by having the opportunity to get a good education and a good job you are already luckier than a large majority of people in the world.
I don't know about you but it gives me a different perspective now when I hear people complaining about the most trivial of things like how slow their pizza took to cook or how long they have to wait in line for something. Puts everything in perspective for me.
If you are guilty of taking things for granted, and to be honest, I think we all have been occasionally, cut out all of these little petty things and focus on the real challenges in your life. There may be many challenges that you will have to face so don't go around inventing more when you don't have to. Do this and appreciate what you already achieved and you will be on your way to a happier you.
One of my favorite sayings is from a song filled with life advice called "Wear Sunscreen" and it goes something like this:
"The race is long, and in the end it's only with yourself"
Define what success means for you and don't put other people down along the way, celebrate your achievements and praise others' achievements even more.
Now stop, step back, consider all of things you already have and all the tools and resources that are available to you right now. Life isn't so bad, is it?