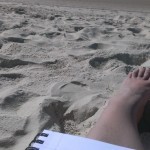 I am sitting on the beach, pen on the ready and blank pages in front of me.
Time for some new articles for Mind Recipes®, but the ideas were just not flowing.
The breeze is blowing in my hair and the sounds of waves in the background, I find myself getting lost in the moment, staring out to the ocean when I suddenly realized that 30 minutes had passed…..30 minutes of utter bliss where I wasn't really thinking about anything – just taking in the sights and sounds of this beautiful day.
When I came back to earth, the ideas were flowing and I am frantically writing without even thinking. This is what was needed today – some relaxation and bliss time.
Have you experienced times when there are things to be done or decisions to be made when your head is all a muddle and your thoughts are jumping all over the place?
Whilst we can't always arrive at the beach and have this time, spending 5-10 minutes or 30 minutes of relaxation/meditation works wonders to clear your mind of the clutter and to begin thinking clearly.
Take some time today just for you. You may not need to write an article or make a decision. You may just need to relax and revitalize yourself.
By spending a few moments a day meditating, going for a walk or spending time in your special place, be that at the beach, under a tree, in a park or a forest, the remainder of your day progresses more productively.
Don't use "I don't have time" as an excuse. Create the memories which will last a lifetime.
I was playing with my Grandson at the beach making sandcastles and collecting shells. What a beautiful way to spend the day.
Listening to him laugh and concentrate on building his sandcastle, it really bought home what is important in my life.
It is worth it and YOU ARE WORTH IT. Take the time TODAY.