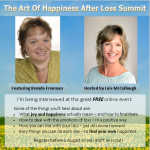 When you've been through a major, life-changing event, it's only normal to spend time getting over it. But when you're OVER getting over it, and want to find happiness again, how do you do that? Well, this August, your days of wondering and struggling are over.
My friend Lois McCullough has put together an amazing online event, with 21 loss and happiness experts, who will inspire you to bring happiness and joy back into your life, and to move forward from now on, with renewed energy and a greater sense of purpose and fulfillment.
I'm excited to be a guest speaker as part of The Art of Happiness after Loss Summit, http://bit.ly/1squJ9a and I can't wait for you to join me!
The 21-day online tele-summit event begins on August 1st, and it's FREE!
Click here to reserve your seat! http://theartofhappinessafterloss.com http://bit.ly/1squJ9a

 When you are ready to get back into a joyful life, it's nice to know there are others out there who are ready, and eager, to support you. Lois has found 21 of the kindest, most generous experts in the world who understand what you're going through, and are willing to help you.
 Embrace life again, and find all the joy and happiness you deserve.
 Register now for the August 1st launch! It's free! http://theartofhappinessafterloss.com http://bit.ly/1squJ9a

Remember, today is the beginning of the rest of your life!
 I'll see you there!
P.S. Friends help each other. If you have a friend who also wants to find happiness in their life, send them here too! http://theartofhappinessafterloss.com http://bit.ly/1squJ9a